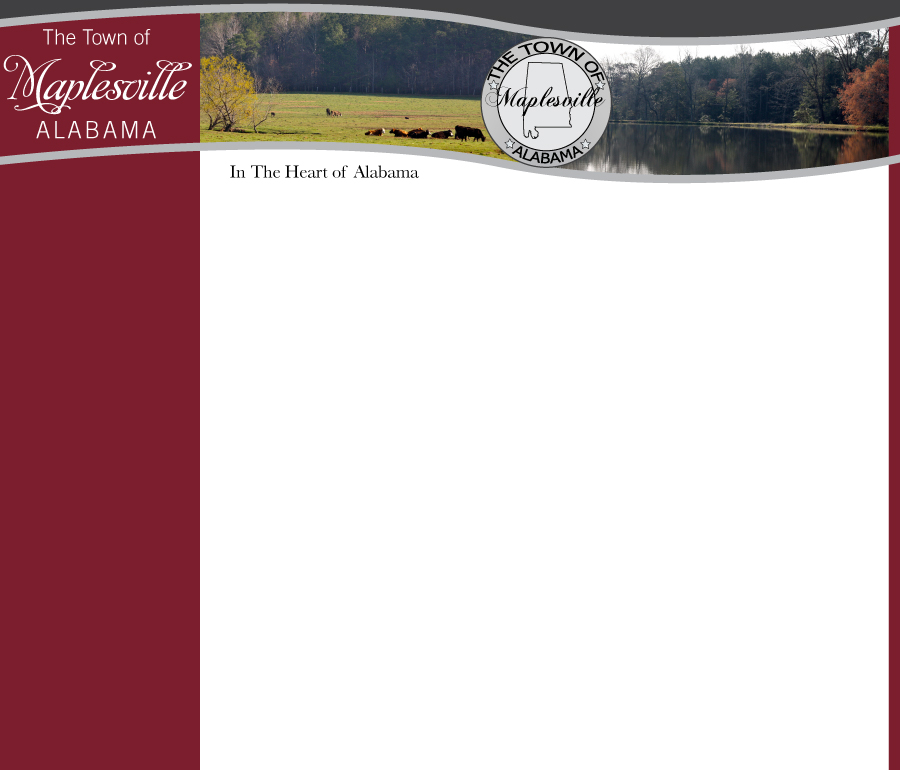 Town of Maplesville, Alabama

9400 Al Hwy 22, Maplesville, Al  36750

Phone: (334) 366-4211 (334) 366-4212   Fax:(334) 366-4210

Copyright © 2011 - Town of Maplesville, Alabama - Powered by [PIXEL DESIGN]
General Andrew Jackson's defeat of Chief Menewa, Red Eagle and the Red Stick Creeks at the Battle of Horseshoe Bend in 1814 opened the door for the migration of white settlers primarily from Georgia and the Carolinas to this region of the Mississippi Territory.  By the time Alabama gained statehood in 1819, pioneer families had established a foundation for the town of Maplesville near Mulberry Creek, 3 miles east of the present location.  The town's namesake was Stephen W. Maples, a merchant whose store held the first post office.  The community became a crossroad for the Fort Jackson Road, which connected Tuscaloosa to Coosada and Montgomery, and the Elyton Road which connected Selma to points north.  Inns and taverns were built to accommodate the stagecoach traffic with the area's population increasing to 809 by 1850.

In 1853 the Alabama and Tennessee Rivers Railroad was completed at the nearby community of Cuba.  The citizens of Maplesville began migrating to the new Maplesville Depot thus initiating the decline of the original town.  In 1856, the Maplesville Post Office was located to the new site effectively changing the name of the community.  By 1900 old Maplesville had become a ghost town and today little remains other than the cemetery.  The addition of the Mobile and Ohio Railroad in 1897 brought good times to the town for the next 20 years.  Many of the older buildings seen in town today were built during that period.  Over the years three depots have served the Norfolk Southern Railroad and its predecessors.  The first was built around 1853 and was destroyed by Wilson's Raiders on their march to Selma during the War Between the States.  The second was built shortly after the war and burned along with a number of other buildings in the fire of 1911.  The present structure was built in 1912.  It was placed on the Alabama Register on 11-23-76.

On September 26,2003 the area received the designation of Maplesville Railroad Historic District and was placed on the Alabama Register of Landmarks and Heritage by the Alabama Historical Commission.

History of Maplesville, Alabama